International Graduate Admissions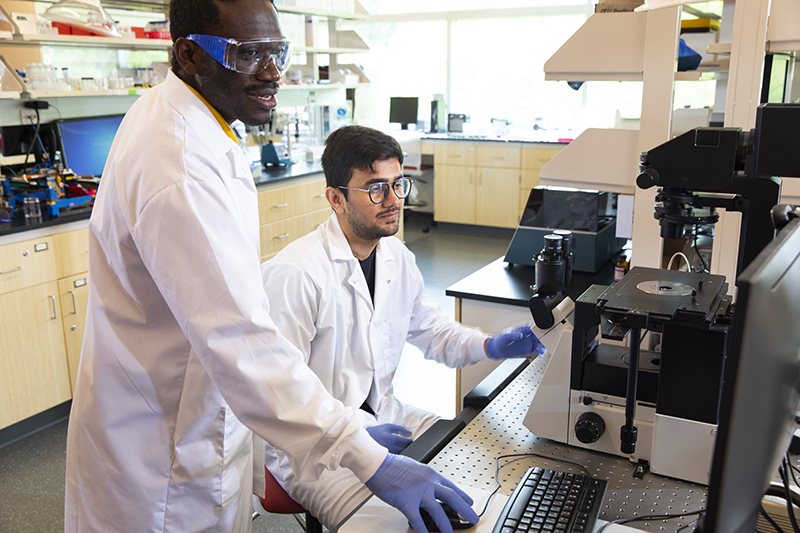 Start your Graduate academic journey in the U.S. with Rowan University, and join a national public university ranked in the top 100 by U.S. News and World Report.* A Carnegie-classified Research II university, Rowan is conveniently located close to Philadelphia, New York City, and Washington, D.C., giving students access to the highest quality hands-on education and research, and strong career outcomes - all at a surprisingly affordable cost. 
Students from 41 states within the U.S., and 44 countries around the world, call Rowan home. International graduate students engage in research, scholarly and creative activities, and enhance their professional career both on and off campus at Rowan. 
Explore to find out more about the available majors/disciplines.
Unlike most universities in the U.S. that charge out-of-state price to international students, Rowan University provides in-state tuition and fees for qualified international graduate students.
Tuition & Fees: $16,400
Housing & Meals: $13,500
Health Insurance & Expenses: $5,000
Estimated Total Annual Cost: $34,900
*Tuition and fees are based on 9 credits/semester and may vary in select programs.
For more information about cost and the current tuition rates, please review the Tuition and Costs.
Ready to Apply?
Ready to Apply
The International Graduate Admissions office carefully considers each applicant individually and selects candidates who will be academically successful, contribute to student life and benefit most from the Rowan experience.
The steps below will help you prepare your international graduate application.
Step 1
To start the application for international graduate admission to Rowan University, create an account in the admissions portal here. All notifications will be sent to the email address you use to apply, including your admission decision.
You will be able to view the following in your admissions portal:
Your application checklist (including received/missing documents)
Application updates
Your admission decision
Step 2
Once you have created an account, you can submit your application to your program of choice, and start uploading the required documents. Your admissions portal will always have the most up-to-date status of your application. To check the status of your application, simply log in to your portal.
Note: There is no application fee for international graduate applicants.
Your checklist will reflect items required for your specific program, and will appear that they have been received or that they are still needed to complete your application. If a required item displays as missing, it has not been received or is still being processed.
You may also submit paper documents through postal mail to:
International Graduate Admissions
Rowan University
Hawthorn Hall, 3rd Floor
201 Mullica Hill Rd.
Glassboro, NJ 08028, USA
If you are an international applicant who was educated outside of the United States, please review our English language proficiency policies and requirements here.
International
Entry Terms & Deadlines
Rowan offers either Fall or Spring entry options for international applicants.
I-20 Process
In order for us to be able to issue your I-20, you must submit your completed I-20 application and supporting documents to the International Center. Please click here for a guide through applying for an I-20. While the I-20 application and supporting documents are not required for admission, it is recommended you submit these documents as early as possible to avoid processing delays. 
For all I-20 related questions, feel free to email RowanIC@rowan.edu, or call +1-856-256-4292.
Contact Us
International Graduate Admissions
Rowan University
Hawthorn Hall, 3rd Floor
201 Mullica Hill Rd.
Glassboro, NJ 08028, USA

Phone: +1-856-256-5748
WhatsApp: +1-856-628-1766